Technology isn't static and it's moving at a faster tempo now more than ever. Now, if you choose to DIY every single moving part in your business, then you're missing the point. The easiest way to scale your business in today's fast-paced digital landscape is to outsource.
Whether you need to outsource web development, content marketing, customer service, or animation, outsourcing is the speed-train to achieving fast results. Now, while you can try dipping your toes into a bit of content marketing or sales, a new website project is simply best left to the experts and professionals.
Moreover, the reality is that not everyone has enough manpower, resources, and time to set up and run an entire in-house team of developers – and working with a web development outsourcing partner allows you to clear this off your headspace so you can maximize what you already have.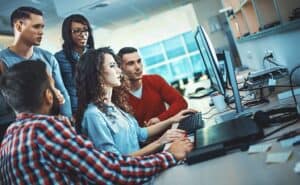 What is Web Development Outsourcing?
Every business needs a website. And it's not simply an option you can skip. Your website is the main point of contact or the storefront that enables customers to directly connect with your brand. So, yes, your business needs a website or a virtual presence to thrive – PERIOD.
If you want to make that impeccable and powerful impression of your brand, you need to invest in web development services. What would it take to help you create a compelling brand presence with a website? Will doing it yourself be worth it if you end up getting a less-dynamic or poor-performing website? OR do you take the smart leap towards website development outsourcing companies.
Web development outsourcing is hiring or contracting an external partner or third-party service to manage your web project.  WordPress processes required for creating websites can be complicated so most businesses would resort to ready-made websites or templates that can be found online. While it has this easy-to-build capability, it's proverbially static and leaves very little room for you to customize your website.
How Do You Outsource Website Design?
As a startup, it's predictable to have limited talent and resources. But, that's no reason to shortchange your customers. Outsourcing to web development companies is the key to creating stunning websites that are meant to attract potential customers and keep them engaged.
So, what happens when you outsource web development projects? What goes on behind the scenes? What processes actually work and is repeatable? Here's how it's done:
Be Specific and Clear with Your Business Goals.
The best web development teams can only do so much without your vision. You have to know and be specific with what you want to achieve with a website.
Why would you want a website in the first place? What specific benefits do you desire when you hire a web outsourcing team? Once you have clearly defined your vision in terms of brand messaging and the response or action you want your customers to take, then it would be easier to communicate that with a web development outsourcing company.
You need to determine a budget as well with all the project costs in mind. Outline specific goals; determine tasks and other technical requirements. Remember, what's measured, improves.
Outsource to the Best Web Design and Development Provider.
Now that you have outlined your vision in detail, next in line would be to choose the best web design provider for your business. When looking for a web designer team, here's what you should check in their portfolio:
Website and social media channels
Specialization
Social media reviews and client testimonials
Project experiences
Once you looked over these details, you can determine not just competency but also commitment in a web development outsourcing company.  When you have found skilled web developers, then you can go ahead set up a meeting to discuss the project details and agreement. Agree on the following things: scope of service, payment, deadlines, and other things.
Ongoing Communication All Throughout the Web Development Process
Communication is the backbone of every. If you have web developers from other time zones then there could be a language difference. However, this isn't a barrier anymore with the help of technology and internet.
It's important to let them work on the project without you breathing down their necks but the first few weeks of working together is critical. So, daily communication and weekly updates on the progress is recommended to ensure that everyone is on the same page.
Set KPIs
Every project should have KPIs, to begin with. This helps you all measure in precision and accuracy the progress of web projects. Here are some measures that you have to look into when setting up KPIs:
Measurable (volume, percentage, quantity, time, and others)
Aligned with your goals
Rank KPIs according to their importance
Discuss your KPIs with your outsourced team and keep track of how they are meeting business goals. Having KPIs also help keep the outsourced web development company accountable.
What to Look for When Outsourcing Web Projects?
Outsourcing web app development shouldn't be complicated when you are clear with the results you want to achieve. With several outsourcing companies out there, what qualities should you look for in a web design team? What are your reasons to outsource? What are your project requirements? What specific qualifications should you check first?
For sure, you would want to work with the best outsourced team. Working with a company that has good reputation and provides full scope of web solutions or IT services will give you that boost of confidence and security. Below are some of the criteria or qualities to check with your web development team.
Industry Experience, Expertise, and Certification
Looking into the domain expertise plus certification is mission-critical to getting the best web development company to work on your vision. In essence, every expert learns by doing.
Check on this information before you hire the right company to work on your project. Look into their industry experience, team certification, and their successfully implemented projects. Industry experience matters and it's one of the best traits to look into first.
Responsiveness
Businesses rely on predictability and reliability when partnering up with an agency. Look into their level of responsiveness like how often they provide feedback and manage projects in a professional manner.
Changes are inevitable and working with a business that always keeps you in the loop of things is a great quality after all. Look for a partner agency that is proactive and manages day-to-day work with ease.
Tools, Systems, and Technology
You would definitely want to work with a professional web design company that has state-of-the-art technology and the most advanced tools that can help improve productivity and efficiency. Check their project methodology, frameworks, tools, and systems in place used to create websites.
Best Practices
Experienced and reputable web designers are transparent and comprehensive with every project they handle. When you go over their websites, you'd see case studies and details of the project. You should also check into their project management process and make sure that they have a non disclosure agreement.

Benefits of Outsourcing Web Development Projects
Small businesses would rather build an in-house team for web design and development than outsource to a development partner thinking that they are saving costs. However, there are many advantages when you choose to team up with an experienced agency. Here are some of the popular reasons why you should team up with an agency for your web design needs:
High-Performing Industry
The web design industry is highly competitive, so everyone is wired to perform at peak levels all the time. The competition among agencies drives every web development company to outpace and beat everyone at their own game.
Save Costs
Web development cost is definitely one of the biggest reasons why companies choose to outsource their need for website development.
When you work with a web development agency, you save time, energy, and costs from having to deal with recruitment, benefits, insurance, software and hardware investment, and other overhead expenses than when you have an in-house web design team.
When outsourcing websites, you only pay for the actual hours or time used up for the entire project or web application.
Access to a Diverse Pool of Talent
While you can always hire an in-house web developer for your web projects, this might not be practical or cost-effective, especially for one-off projects such as for building websites or designing a new app.
More so, when you outsource, you have an outsource web development company to take on varied types of tasks without having to hire anyone full-time. This helps you save time and costs with the hiring process while keeping productivity at peak levels.
Scalability
In this digital world, you get to scale better and faster with an agile team. Partnering up with web development agencies, provide you access to a readily available team of trained and experienced professionals that you can tap into any time for different projects such as when you outsource software development.

Save Time
You can't afford to waste time with a pressing deadline. Businesses today are moving at a fast tempo and have become increasingly demanding. By outsourcing website development, they do the heavy lifting; get more work done for you, and track development progress, which helps you save more time in the long run.
Mitigate Security Risks
When you choose to partner up with reputable and legitimate outsourcing web development agencies, you also enhance the security of your website. It's important to keep your website security robust and protected because you also risk company date breach and sensitive customer information leakage.
Ready to Grow and Scale?
The UX or user experience and customer journey are very important and should be on top of mind with web development in 2022 because it reflects your unique brand messaging that attracts your target audience.
Look at it this way, if you just use generic templates that can be used by anyone then it also speaks volumes about your business. You don't want to be generic or average right? If you want to stand out in a sea of competition or outsourcing market, it's a must to invest in outsourcing web development services you can find. To lead and get ahead, you definitely need a gorgeous and intuitive website.
So, if you're ready to build, grow, and scale, then this is your cue. Pain is necessary for growth but with us at Direct Allied Agency, we provide you a dedicated team so you don't have to do it alone. Contact us now for a free consultation and to discover how we can help you get started with your web design and development projects right away!