Let's face it, there are millions of freelancers and agencies offering website design services these days. That shouldn't deter you from filling this important need for your customers, because you could be missing an opportunity to provide value, and strengthen your relationship with business owners.
Simply having a discussion, or bringing up someone's current website in a conversation is often all it takes. Any digital marketing, or web professional doing monthly reviews, or taking on new clients should always examine the customer's current site, and compare it to their competitors' to get quick ideas on what to improve on.
This is particularly true for local businesses who are always competing with each other at a high level.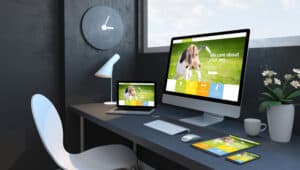 What Sets You Apart?
If the client doesn't know you well enough yet, you'll need to lean on another key benefit that you can provide that all the other aforementioned "web specialists" don't. What is it that makes you different? Do you have a rockstar graphic designer at your disposal? What about on-page SEO, hosting, support or bundled deals?
You'll feel ten times more confident once you decide what angle you want to offer websites from. You can even choose to generate monthly recurring revenue by using a payment-based model. Cross-promoting any other digital offerings is always a great idea, and is great for client retention.
Now that you've got something to offer, here are some of the ways in which you can start telling others about your new service.
Promote Through Social Media Platforms
Many small businesses are using online platforms as part of their business model, as well as their pricing model, attracting customers, and so on. That is because online platforms are among the most effective ways to market your web development services. As a business owner, taking advantage of various social media channels can greatly benefit you regarding digital marketing for a potential client.
Although promoting in your local community is important, you should not also forget to market yourself in online communities. And that also applies to the local chamber of commerce, forums (like Reddit), groups and directories (like Yelp). Since almost everyone is always on their phone, marketing online is the basic idea, especially for a local business.
Obtain Testimonials From Your Previous Customers
Adding testimonials to your sales material is highly beneficial if you want to find clients and promote your web design service. You may not know, but those testimonials from your past customers show your good relationship with them as your customers.
That may also mean your web design skills are qualified enough to meet their needs and standards. As a web design agency, you helped their businesses greatly. So knowing that may lead you to more great clients.
And with that, collect Google reviews and earn customer testimonials to form invaluable connections with more prospective clients. You can really build credibility and expand your customer base with this tip.
Enhance Your Website
To successfully market your services, you must have a new website showcasing your business. Especially in this industry, your own website should display all the necessary information about your business history, talking points, contact details, and services.
You may say that you offer a free consultation, meeting face to face, which is good for those new to web design. Another one to include in your website is your business's perks like you have skilled and trusted web designers on your team for creating websites.
You can also consider displaying other complementary services and anything you want to show to your ideal clients. You are good to go if you keep your website SEO-friendly and mobile-friendly.
Use Search Engine Optimization
SEO or search engine optimization is a sample of an ongoing process and another important tool that can help market your web design business. The main goal of SEO services is to help its customers improve their webpage's positioning and format in organic search results.
That is because organic search is a well-known method for individuals to identify and access online content. So considering that great SEO is necessary to enhance the quality and traffic to your website. Resulting in your web design services being discovered by potential clients.
Consider Online Advertising
And for the last tip on how to market your website design business effectively is through paid ads. If you are unfamiliar with this, advertising online is one of the most prominent marketing strategies today available to generate more business.
Another technique of paid advertising is to display ad listings on high-traffic websites showing and promoting your business portfolio. Aside from that, you can also do some pay-per-click campaigns together with various large search engines. For a web designer, you can consider paying for some listings or ad space from relevant business directories (like Clutch).
In this way, you'll be able to promote your business while expanding your target market and potential customers, including web design clients.
Improve Your Web Design Business Advertising With These Tips!
Although selling web design services can be challenging, it can lead to more opportunities. Consider it your foot in the door: after your website is up and operating, you can begin upselling your services and obtaining more clients.
Keep in mind that it all comes down to the value of the service. With the tips mentioned, you can start to market your work confidently and more effectively, even if you are not a pro.