Outsourcing your white label services to a freelancer or a web design agency deserves careful thought because they're the ones who will actually work behind the scenes to give your clients a profitable website that represents their brand, and your company. So, it pays off to onboard true experts that will make a difference for your organization.
Many business owners suffer from bad hires. According to the U.S. Department of Labour, the average cost of a bad hire is up to 30% of the employee's first-year earnings. In effect, hiring the wrong person results in wasted productivity and inflates expenses in hiring, recruiting, and training replacements.
Between the two, which is the better option? This article will focus on the most important factors you should note when you work with an agency to handle your design and development projects.
A White Label Agency Has Proven Systems in Place
When you partner with a white label agency to create websites for your customers, you don't have that nagging anxiety that they may not deliver as promised.
A white label agency has instilled tried and true methods for their systems that you can count on when outsourcing the entire project, especially the big ones. Part of that effective system is an experienced team, the right tools, and processes that a freelancer may not have.
Premium Skillset
The people inside a white label agency possess a wide range of skills developed by training, education, and experiences. They look for these qualifications upon recruitment, and the people who will do all the heavy lifting for you are qualified and experts in their jobs.
If you partner with them, the team who will work for your client's websites exhibit premium skillsets and flexibility which are improved by constant training, enforced work productivity and exposure to different business needs.
Updated With The Latest Trends
White label agencies are always on the lookout for the hottest trends and best practices in web design, web development, and digital marketing in general.
It is their only way to keep their business alive- devoting their time to trying new methods and techniques, so you don't have to. As a result, small businesses trust their white label partner because they have an expert opinion on website design and business in general.
While a freelancer can still offer top-notch white label design and web development services, it isn't easy to find one with this same knowledge. When hiring a freelancer, you meet many different people around the world with varying levels of freelancing expertise and specialization.
Greater Access To Useful Tools
Having an agency as your white label partner assures you that they have access to different web design and white label web development tools to achieve a professionally made website. Ready-made solutions for your clients has many benefits, and eliminates that dreaded "scope creep."
On the other hand, when you hire a freelancer, they may have limited access to modern and effective tools to design and develop wide-scoped and complex websites.
Processes
Owners of companies working with white label partners means sleeping at night without the fear that you missed out on something or you don't have solutions to your problems. Most design agencies have standardized protocols and processes embedded into their system to ensure they produce quality results all the time.
Before showing the finished website to the client, it undergoes strict quality assurance tests to guarantee that website works as intended on all devices.
A white label web design agency will have a rigorous QA process to validate that all the websites created align with the wishlist of your clients before presenting it to them.
Reliability And Dependability
Your website service provider operates in the name of trust, and working with a partner who maintains a clean reputation sets you apart from other agencies.
Even though many freelancers are competent and dedicated to their craft, there are times when they have to put your project on hold or extend the timeline because of unforeseen events like sickness or an emergency.
This is when it makes sense to outsource your projects to a professional agency, as they have a creative team that can keep working on your project even if one member takes a day off. Also, these people can quickly meet your deadlines, which is an advantage because you won't have to stop promoting your service for very long at all.
Cost-Effective In The Long Run
If you only cater to very budget-restrictive small projects, hire a freelancer because they have 30% lesser overhead costs than white label agencies. Be mindful that the initial risk when you hire freelancers is considerably high because it's a hit or miss to find someone in the freelancing industry who can deliver quality websites at a lower rate.
However, if you intend to work with multiple brands and larger website development projects, partnering with white label agencies would be the most cost-effective option. It serves as a part of your business investment which can be more advantageous to you in the future.
You lessen the cost of trial and error because they have a team of specialists (from web designers, web developers, and project managers) to get it right from the beginning. In addition, they have dedicated resources and better packages that a freelancer may not have to maintain quality service at a lower cost.
They already have a team ready to do what your clients want, and you don't need to get stressed monitoring whether they perform well or not because your partner agency already does that.
Scalability
Once your business starts to grow, your agency helps you offer additional white label design and development services and ongoing maintenance to the sites they build.
For example, if you only offer social media management solutions, an agency quickly helps you widen your horizon. Moreover, a white label marketing agency would offer more services to upsell existing clients, such as SEO and advanced digital marketing or advertising.
It means that if you experience an increasing demand for web design services, you won't need to scramble around at the last minute to look for a freelancer (graphic designers, developers, etc.) to work on the project. The agency already has a team of professionals ready to accomplish the tasks on demand.
Client Communication
Working with white label partners means you can have more opportunities to reach out to customers and build relationships. Depending on the flexibility of your agreement, you can even let your partner agency contact your clients directly or indirectly.
Direct Contact
Often called a front-facing set-up, this means that your partner will directly get in touch with your clients to address their concerns and basically perform the necessary activities without your involvement. This is preferable to growing companies or entrepreneurs who have too much on their plate and they don't have the time to show up to the client and cater to their needs.
Many business owners prefer this approach if they don't have the technical expertise and the needed skill set to provide valuable solutions to their client's problems.
Indirect Contact
Indirect contact means partnering with an agency to do all projects on your behalf.
We call this "full credit white label," where partners do all the work under your company name, work behind the scenes for your company and never contact your clientele. This benefits you if want to establish your brand and take all the credit for the work. In the end, you should have the freedom to choose how you would like your client to get contacted.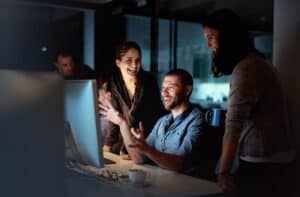 Ongoing Support
If you need someone to manage all your search engine optimization, WordPress updates, digital marketing, branding, site design, and analytics, then hire a professional agency rather than hiring a freelancer.
All the services mentioned are instrumental to solidifying your client's digital marketing campaigns. In addition, numerous organizations provide continuous support that comprises the whole solution package, and they have a responsive team to manage absolutely anything you require. Freelance workers won't do that for you.
Consistent White Label Services
Expect consistent results from a professional agency because their entire team works together to get the intended results, so everything you need is in place and ready for use. You can't say the same for freelancers because you won't get the same level of consistency if you hire numerous freelancers who are not operating together.

Ready To Grow Your White Label Web Design Business?
Hiring a freelancer or an agency to do the website design for you has a lot of advantages, and also some drawbacks. However, if you want to significantly lower the risk of running this kind of business, team up with a trusted white label web design and marketing agency.
Click here to learn more about the packages you can choose for your customers, and forget getting stuck in the hit-or-miss freelance game.